Fundamental to any website is the hosting service. This is where your website files 'live.' It's the portal that lets you build and edit your site. Not all hosting services are created equal! Some seem like a great deal until you read the fine print.
The tiers of web hosting are: bundled, shared, cloud, and dedicated. I describe each level below. Most small businesses are best served with a shared plan. I've highlight four shared hosting services that are fast, reliable and a great deal.
Tiers of Website Hosting
To make sure the shared hosting option is the right fit for your business, here are the tiers of website hosting.
Bundled Hosting
Bundled hosting includes services like Squarespace and Weebly. They are simple to use and reduce the effort and learning curve to get started on your website. However, there is very limited customization available and they do not permit you to transfer your site to another host. You have to rebuild it somewhere else. This makes it harder to grow your website with your business.
BUNDLED HOSTING
PROS: Easy, all-in-one solution that requires few technical skills.
CONS: Relatively expensive, less customization available, difficult to migrate.
Shared Hosting
Shared hosting is an affordable and flexible starter option. It's the most popular choice for startups and small entrepreneurial businesses. It makes it easy to get started now and scale up later.
Shared hosting services are designed for the average tech user and don't require advanced knowledge. The carefully selected services below include features like drag and drop website builders, a user-friendly control panel, and free migration of your existing site. Unlike bundled hosting plans, with shared hosting, you own your files and can take them with you if you change hosts.
There are limits to the size and function possible for your website with shared hosting. If you are getting thousands of visitors at one time or want to host large files, you'll need a cloud or dedicated plan. Shared hosting services do allow you to embed unlimited videos or podcasts – if they are hosted somewhere else like YouTube or Spotify.
SHARED HOSTING
PROS: Affordable, easy to use, a foundation for growth.
CONS: Limitations in speed and file storage.
VPS & Cloud Hosting
When you're preparing for a significant boost in traffic, it's time to look at a virtual private server (VPS) or cloud hosting plan. They provide scalability, flexibility, and redundancy for growing sites.
A VPS is the cloud-based version of a shared server. Instead of several websites sharing one machine, your website runs on the computing power of several cloud-based servers.
VPS or cloud hosting permits you to do things like host videos and podcasts directly on your website, handle a stream of ecommerce transactions, or manage a membership site where many users are on at the same time.
VPS & CLOUD HOSTING
PROS: Flexible. Seamlessly scale up and down with your needs.
CONS: Increased time and technical knowledge to manage.
Dedicated Hosting
Dedicated hosting is the top choice of Enterprise-level businesses and high volume ecommerce websites. It provides maximum server resources and security. Customers can customize operating systems and meet every configuration need.
Dedicated hosting plans are the luxury tier of the website hosting world.
DEDICATED HOSTING
PROS: Highly secure. Able to handle huge traffic.
CONS: Highest cost option. Requires system management skills.
Uptime, Security, and Speed
Your company's website is the online storefront for your business. For new customers who find you online, it makes the all-important first impression. For this reason, your hosting provider must be reliable with guaranteed 'uptime.' If your website loads slowly, freezes up or is unavailable at certain times you lose customers. The website hosting companies compared below all guarantee either 99.99% or 100.00% uptime.
Security on the web only becomes more important. You want to reassure your customers with a Secure Sockets Layer (SSL) certificate. The hosting providers below offer security free SSL certificates.
All four hosting services below use new-generation solid-state drives (SSD) even for basic plans. With no moving hardware, SSD can access your files in nanoseconds, which means customers click seamlessly through your pages.
4 Best Shared Hosting Services for Small Business
The following four hosting services stand out for customer service, reliability, and speed. They all use SSD drives. Rates compared are the prorated monthly charge for a one-year subscription.
| | InMotion | SiteGround | GreenGeeks | DreamHost |
| --- | --- | --- | --- | --- |
| Entry Package Promo Rate | $7.46/mo | $3.95 | $2.95 | $3.95 |
| Renewal Price | $8.99 | $11.95 | $9.95 | $4.95 |
| Includes Free SSL Certificate | Yes | Yes | Yes | Yes |
| Customer Service Access | 24/7 | 24/7 | 24/7 | 24/7 |
| Cancellation Policy | 90 days | 30 days | 30 days | 97 days |
| Custom Email Addresses | Yes | Yes | Yes | Add $1.67/mo |
| Includes Website Builder | Yes | Yes | Yes | Yes |
| Automatic Backup & Restore | Add $2/mo | Yes | Yes | Yes |
| Scalable as You Grow | Yes | Yes | Yes | Yes |
InMotion Hosting boasts speed and rapid response time. In addition to SSD drives included in the basic shared hosting package, they also strategically located their servers directly on Internet Exchange Points on the U.S. east and west coasts.
InMotion Hosting's promotional discount seems like less than the other services. However, their basic plan stands out because it lets you host up to two websites instead of only one.
Over the past five years, SiteGround emerged as a stable giant in the shared hosting marketplace. They have servers on three continents so your website is fast and available from anywhere.
SiteGround's plans are feature-rich and grow easily with your business. They also match 100% of the energy used by their servers with green energy.
GreenGeeks stands out for speed, service, and environmental values. Since 2009, they have been recognized by the United States Environmental Protection Agency as a Green Power Partner. 300% of the energy consumed by their servers is offset with renewable energy
Since servers consume power all day every day, GreenGeeks gives you a way to give back as a normal part of doing business. They also offer a feature-rich service, including exclusives like their PowerCacher.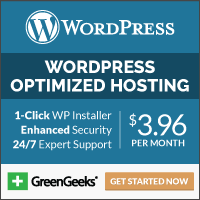 DreamHost takes customer service seriously. Instead of outsourcing support duties, they train people in-house to take care of their customers. You can access support 24/7. Live agents are available from 5:30 AM – 9:30 PM Pacific.
DreamHost is the most affordable of the bunch. Their renewal rate is the lowest, even when you add $1.67 for custom email addresses. The shared basic plan includes one free domain name for the first year.
The Digital Age Just Gets Easier
Shared hosting services are faster and more feature-rich than ever before. With a little technical knowledge, an attractive and responsive website can be affordable to set up.
Having a website for your business may have been optional ten years ago, but today no website means lost business. People are finding what they want through online research – especially on their phones. Hubspot's 2019 report shows that 82 percent of smartphone shoppers use 'near me' queries and 61 percent are more likely to contact a business if they have a mobile-friendly website.
All four of the hosting services above provide SSD technology and customer service support for an easy-entry price.
If you'd like to build your own WordPress website using one of these hosts, check out my free course.